Gulden Draak Classic by Brouwerij Van Steenberge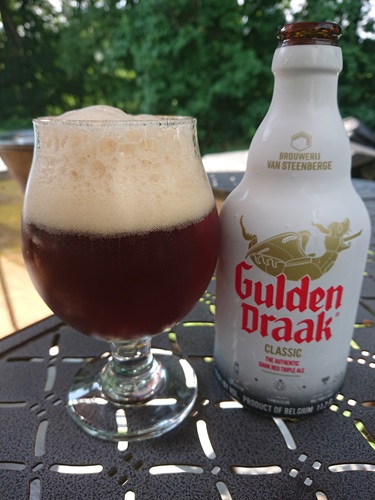 About Gulden Draak Classic
Gulden Draak has been breathing fire at the Van Steenberge brewery since 1986. This characterful, fiery beer was originally commissioned by the Cruyl brewery in Assenede. At the time, it was a festive beer brewed just once a year for the Assenede fanfare.

Gulden Draak originated when Jozef Van Steenberge received one of his Italian customers back in 1986. The Italian visitor could feel the fire and insisted on buying the beer. At first, Jozef refused because he felt that the beer was too strong, but then he agreed on the condition that an order of 100 hectolitres was placed. At the time, it was a large amount that guaranteed an entire week of production. A beer with character also deserves a bottle with character, a unique white bottle, they decided together.

The name 'Gulden Draak' refers to the gilded dragon statue at the top of the Ghent Belfry. Legend has it that the dragon graced the bow of the ship used by Norwegian Sigurd Magnusson on his crusade in 1111. The statue still stands guard on top of the Ghent Belfry today as a symbol for the city's freedom and power.
Via untappd.