Dark Truth Stout by Boulevard Brewing Co.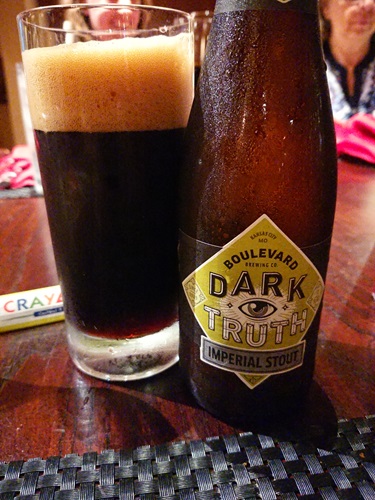 About Dark Truth Stout
Throughout the ages, man has been fascinated by the quest for hidden knowledge, the search for the secret to transforming the elemental into the extraordinary, the simple into the sublime. Ladies and gentlemen, we present for your consideration this exotic, inky concoction, the almost magical creation of our modern day alchemists who have turned humble grains—barley, wheat, rye, and oats—into black, liquid gold. Layers of complex flavors slowly emerge from the glass: espresso, roasted fig, crème brulée. Belgian yeast provides a plum-like fruitiness, noble German hops reveal spicy, herbal notes, while the rich, velvety mouthfeel mellows to a dry, smoky finish.
Via untappd.